Gel Fruit Cherries 3.2 kg
The original product – clear gel and whole fruits sunk in it. To decorate desserts, waffles, ice cream and cakes. Great for baking (special type of thermostable fruit).It is used successfully as a stuffing for dumplings and delicatessen products or as an addition to ice cream. A tasty and popular choice.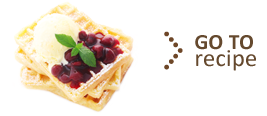 stoned cherries (60%), sugar, modified starch, water, acidity regulator: citric acid, preservative: potassium sorbate, salt. The product may contain lactose (from milk), soy lecithin, and chicken egg white.

A 100 g serving contains:
776 kJ / 183 kcal
of energy
0 g
of saturated fatty acids
5 layers of buckets on a pallet