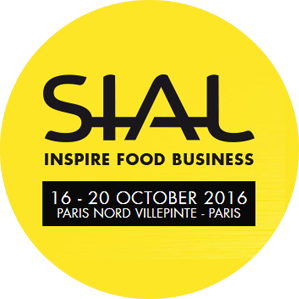 In October, we again exhibited at the international SIAL Paris food fair.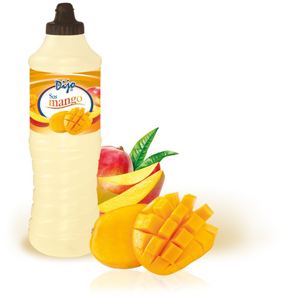 New Product – Mango Sauce!
In June we started selling a new product – Mango Sauce. The taste of summer has come to Dijo!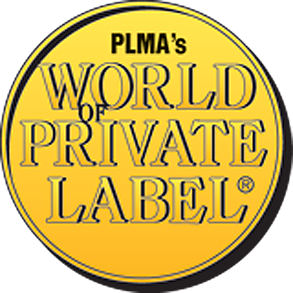 In May, we again exhibited at the international PLMA brand fair.
Tacos and Tortilla Chips! – 2018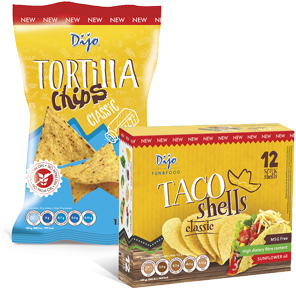 New product – Tacos and Tortilla Chips!
In April we started the production of new Tex-Mex products: Taco and Tortilla Chips.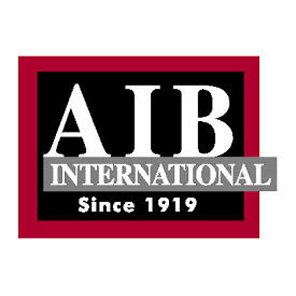 We are very glad to inform that our company received a positive, not announced audit AIB, at the same time getting a certificate confirming the food production safety.
AIB standards were drawn up by the American Institute of Baking in order to assess the food production safety. AIB standards expand requirements for both GMP, GHP as other systems concerning the production quality. AIB standards are more exhaustive and rigorous than any individual norms or requirements.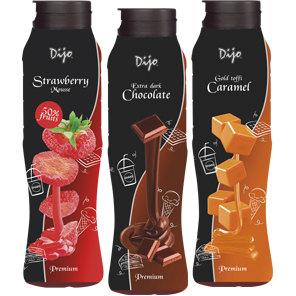 New product – Premium Sauces
In January we started selling a new product – premium sauces.
Product is available in three flavors: chocolate, strawberry and caramel.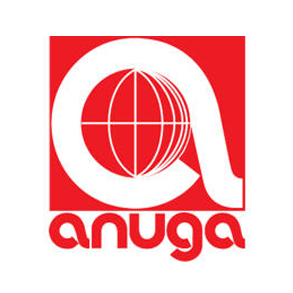 In October, we took part in the Anuga International Fair.

Private Label Fair PLMA 2017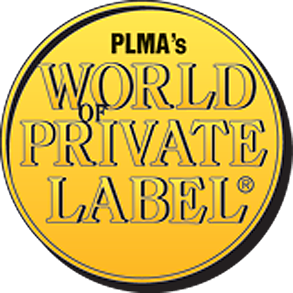 Annual private label Fair PLMA in Amsterdam is ahead of us. Although it will be held May 16-17, Dijo Team is already prepared to present their wide product range.
We are waiting for you at Europahal 5 stand F-5655.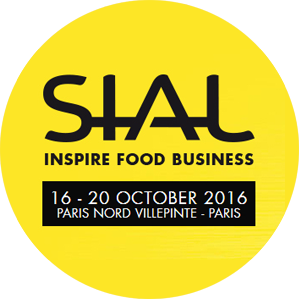 Cold rain and huge traffic jams in the city – that's how we were welcomed to Paris. Fortunately, the exhibition was successful and we made a lot of new contacts with potential customers. Now we keep our fingers crossed for the successful trade negotiations.
We are now slowly getting prepared for the upcoming fairs in 2017 – we will keep you posted.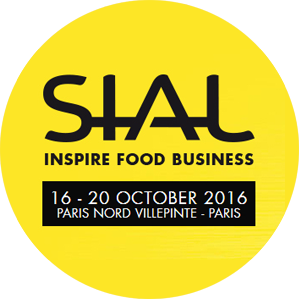 The world's largest food innovation exhibition SIAL in Paris will take place soon.
As in the past years Dijo is going to present its latest products and innovations also during this year's exhibition.
Are you looking for a new product? Would you like to learn more about Dijo innovations?!
We will be more than happy to meet you in Hall 5A, Stand No. J 131 between 16th and 20th of October.
See you in Paris!
PLMA International Trade Show in AMSTERDAM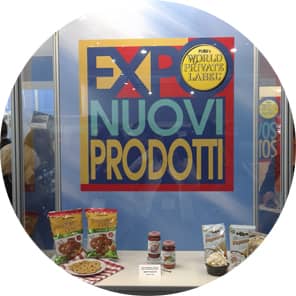 We successfully participated in the PLMA International Trade Show in Amsterdam. We have gained many new customers and look forward to the results.
We are pleased to announce that our pretzels – Pretzel Chips cheese & onion has been selected as the INNOVATIVE PRODUCT!
ATTENTION! Upcoming fairs – SIAL Paris in October. WELCOME!
PLMA International Trade Show in AMSTERDAM 2016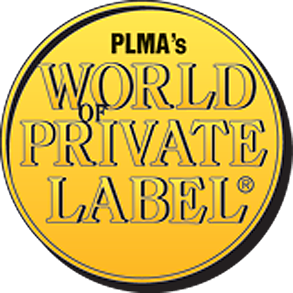 At this year's PLMA Fair (PLMA), taking place on 24-25 May in Amsterdam Dijo must not fail to appear.
The most important trade fair of private label is an excellent opportunity to all guests and to our regular customers that every year visit the exhibition.
We are waiting for you at the pavilion Europahal 4/5, at booth number 5655/5754.
We participated in PRODEXPO in Moscow.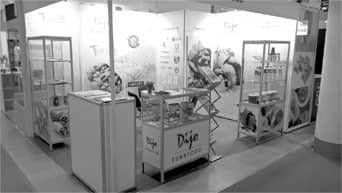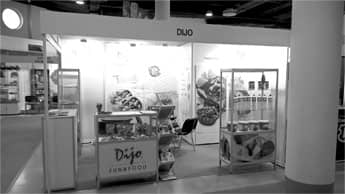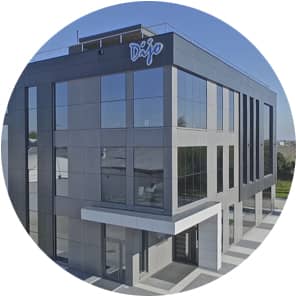 The beginning of 2016 was the time of several important investments completion for Dijo.
A modern office building – new headquarters, was put into service. It offers the employees a comfortable and bright office space, social rooms full of amenities, spacious conference rooms.
Moreover, we expanded our storage facilities and refrigeration – we finalized the construction of a new high-bay warehouse, and we opened another modern refrigeration.
The new world's most modern tortilla production line was launched.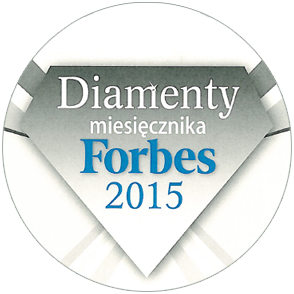 The companies: Dijo Baking Horeca Service and Dijo Sweet Horeca Service are the winners of FORBES DIAMONDS in 2015 for the most dynamic Polish companies!
10 YEARS OF DIJO TORTILLAS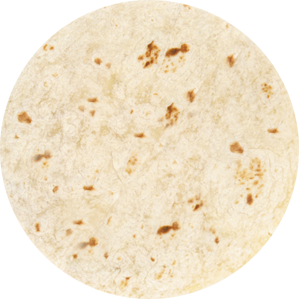 2015 was quite special for us. Exactly 10 years ago we launched the first own production of tortilla – the product which is now our domain and the undisputed trademark.
Within a decade tortillas Dijo gained a wide and still enlarging range of  customers and fans. They diversified, and even revolutionized the native cuisine. Poles have gained access to the new opportunities. Thanks to Dijo tortillas they abandon clichés, and started to learn a new approach to food and cooking.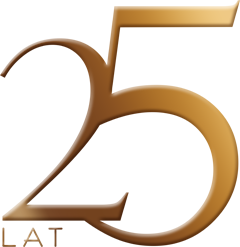 2015 was a year of anniversaries related to the activities of the Dijo Group companies.
Real estate management company, i.e. ZPS Dijo, celebrated its 25th anniversary. Also two other companies – DIJO Baking Horeca Service and Horeca Service – celebrated their 10th anniversary.