Toffee is loved by virtually everyone. Toffee sauce is one of the most popular sauces in DIJO's offer. It is ideal for decorating ice cream and desserts. It is used successfully as the ice cream base or dough additive. It is so delicious that you can get addicted. It is so unique and velvety that it is impossible to resist.
This topping is also available in a 200 g bottle.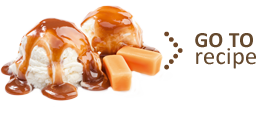 Glucose syrup,  sugar, sweetened condensed milk 24%, [milk, sugar, lactose (from milk)], water, coconut fat, emulsifier: lecithin (from soy), flavour, preservative: potassium sorbate, salt, dye: annatto.
The product may contain eggs.

1313 kJ / 310 kcal
of energy
1.5 g
of saturated fatty acids
6 bottles in a cardboard box
105 cardboard boxes on a pallet