Fudge is a taste of childhood, the enjoyable and eventful one. As an addition to cakes and pancakes, it will tempt even the most shy feeders. In desserts it will work equally great. Natural composition is reflected in the quality of the sauce – its unique taste and aroma that stimulates the appetite. Ideally velvety texture for easy dispensing.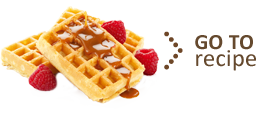 sugar, sweetened condensed milk [milk, sugar, lactose (from milk)], water, glucose syrup, coconut fat, flavours, emulsifiers: lecithin (from soy), mono- and diglycerides of fatty acids; salt, preservative: potassium sorbate.
The product may contain eggs.

A 100 g serving contains:
1390 kJ / 329 kcal
of energy
4.5 g
of saturated fatty acids
6 bottles in a cardboard box
105 cardboard boxes on a pallet