The original cola flavour sauce DIJO is an additive, which determines the nature of ice cream and desserts. Because mainly for these sweet dishes it is recommended. Silky, shiny, tempting – acts as appetizing decoration, a culinary lure. It is difficult to find a child who does not like Cola. But is it true that only children love it?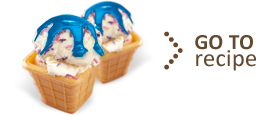 sugar,  water, glucose syrup,  modified starch, acidity regulator: citric acid, flavour, preservative: potassium sorbate, dyes: E171, E131; thickening agent: gellan gum.
The product may contain milk, soy, and eggs.

A 100 g serving contains:
921 kJ / 217 kcal
of energy
0 g
of saturated fatty acids
6 bottles in a cardboard box
105 cardboard boxes on a pallet