Classic tortilla by Dijo. The basis of modern cooking. Inexhaustible source of culinary inspiration. Natural composition and high quality of the product make it a popular choice of conscious and demanding consumers. A popular bakery product, which is distinguished by its original flavour and delicate aroma of wheat.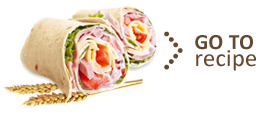 WHEAT flour (60%), water, palm fat, stabilisers: glycerol, guar gum, xanthan gum; glucose (from WHEAT), raising agents: diphosphates, sodium carbonates; emulsifier: mono- and diglycerides of fatty acids, sugar, salt, preservatives: calcium propanoate, potassium sorbate; acidity regulators: malic acid, citric acid; flour treatment agent: L-cysteine.
Product packaged in modified atmosphere.
The product may contain: MILK.

A 100 g serving contains:
1297 kJ / 308 kcal
of energy
1.4 g
of saturated fatty acids
25 packages in a cardboard box
60 cardboard boxes on a pallet