Caramel flavour cannot be compared to any other. Caramel sauce DIJO is its essence. As an additive to e.g. coffee, it releases all its delicate flavour and unique aroma. In addition to the coffees of various types, it can be successfully used for ice cream, desserts and hot chocolate. This is the component, which crowns the work.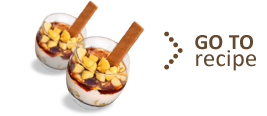 sugar, glucose syrup, water, dye: ammonia caramel, flavour, salt.
The product may contain milk, soy, and eggs.

1264 kJ / 297 kcal
of energy
0 g
of saturated fatty acids
6 bottles in a cardboard box
105 cardboard boxes on a pallet