It is a great addition to any sweet dishes, ice cream and desserts. It perfectly complements the delicious cakes, pancakes or fruit salads. It is natural – produced without artificial colours or flavours. Convenient dosing helps you to  apply it in many sophisticated ways. It is valued for its extremely smooth and velvety texture.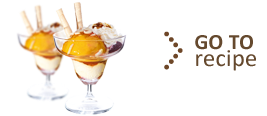 glucose syrup, sugar, sweetened condensed milk [milk, sugar, lactose (from milk)], water, flavour (contains ethyl alcohol), powdered  chicken egg yolk, coconut fat, modified starch, emulsifier: lecithin (from soy), salt, preservative: E202.
The product is not recommended for children and pregnant women.

A 100 g serving contains:
1447 kJ / 343 kcal
of energy
2.9 g
of saturated fatty acids
6 bottles in a cardboard box
105 cardboard boxes on a pallet