SPINACH with basil TORTILLA 25 cm
Due to the addition of spinach it gains a characteristic appetizing colour. It stays fresh for a long time, although it is produced without using any preservatives. Flexible, very easy to wrap, which makes the food preparation really convenient and easy. Tortilla works great as a base for meat, cheese or vegetables.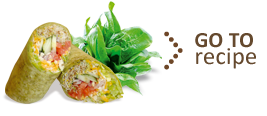 WHEAT flour (67%), water, vegetable oil: rapeseed oil; stabilizer: glycerol; WHEAT GLUTEN, basil (1.2%), spinach powder (1%), acidity regulator: malic acid; emulsifier: mono- and diglycerides of fatty acids; salt, raising agent: sodium carbonates; glucose (from WHEAT), preservatives: calcium propionate, potassium sorbate; flour treatment agent: L-cysteine.
Product packaged in modified atmosphere.
The product may contain: MILK.

A 100 g serving contains:
1297 kJ / 308 kcal
of energy
1.4 g
of saturated fatty acids
25 packages in a cardboard box
60 cardboard boxes on a pallet