The first tortilla straight from the grill! Unique and unrepeatable. It is an attractive base for meat, cheese and fresh vegetables. Now you do not need to do anything to enjoy appetizers looking just like straight removed from the grill. Natural taste and unique aroma of wheat are the main advantages of tortillas by DIJO. Modern bread that wins the hearts of the next gourmets.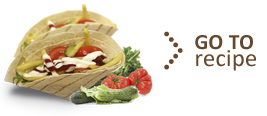 WHEAT flour (63%), water, palm fat, stabilisers: glycerol, carboxymethylcellulose, guar gum; WHEAT GLUTEN, raising agents: diphosphates, sodium carbonates; glucose (from WHEAT), salt, emulsifier: mono- and diglycerides of fatty acids; acidity regulator: malic acid; preservatives: calcium propanoate, potassium sorbate, WHEAT fibre, flour treatment agent: L-cysteine.
Product packaged in modified atmosphere
The product may contain: MILK.

A 100 g serving contains:
1327 kJ / 315 kcal
of energy
2.96 g
saturated fatty acids
12 packages in a cardboard box
60/40 cardboard boxes on a pallet
480 /320 packages on a pallet