Idyllic, perfectly smooth texture. It can be used to decorate all kinds of desserts. It is used successfully as the ice cream base or interesting cake additive. You can also freeze it on the surface of the ice cream. It works great in every version. It smells and tastes in the same way – fresh and real fruit from the orchard!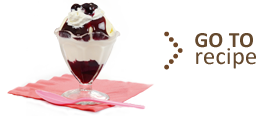 glucose syrup, sugar, cherries (26%), water, modified starch, acidity regulator: citric acid,  preservative: potassium sorbate.
The product may contain milk, soy, and eggs.

1064 kJ / 250 kcal
of energy
0 g
of saturated fatty acids
6 bottles in a cardboard box
105 cardboard boxes on a pallet