The unique deep flavour and enticing aroma. The sauce is created without the use of artificial colours and flavours. It is distinguished by a high content of fruit in the composition – as much as 35% (blueberries, raspberries, blackberries, strawberries, aronia).It is a perfect addition to sweet dishes. For every taste and palate. Its consistency facilitates precise dosage.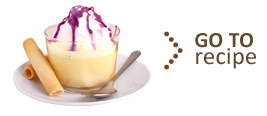 glucose syrup, sugar, berries 35% (raspberries 9%, blueberries 9%, blackberries 7%, strawberries 7%, chokeberries 3%), water, modified starch, acidity regulator: citric acid, flavour, preservative: potassium sorbate.
The product may contain milk, soy, and eggs.

A 100 g serving contains:
1030 kJ / 243 kcal
of energy
0 g
of saturated fatty acids
6 bottles in a cardboard box
105 cardboard boxes on a pallet