Balsamic sauce with forest fruit 750 g
The innovative combination of Italian balsamic vinegar from Modena with forest fruits (such as blueberries, blackberries, raspberries).With no artificial flavours! Exquisite flavouring for, among others, salads, vegetables, meat dishes, fish and desserts or sweet snacks. Ideally velvety and silky.
This topping is also available in a 200 g bottle.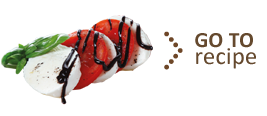 glucose syrup, sugar, balsamic vinegar from Modena 16% (wine vinegar, concentrated grape must, dye: E150d, contains sulphites), blueberries 7%,  raspberries 7%, blackberries 6%, strawberries, water, modified starch, caramelised grape must (contains sulphur dioxide); water, acidity regulator: citric acid, preservative: potassium sorbate, flavour.
The product may contain milk, soy, and eggs.

A 100 g serving contains:
897 kJ / 211 kcal
of energy
0 g
of saturated fatty acids
6 bottles in a cardboard box
105 cardboard boxes on a pallet